We started out the day at Mt Rushmore, and it was really even cooler than I thought it would be. The Black Hills of South Dakota were named for their dark appearance from the distance, being covered in pine trees, when the surrounding area is very flat and sparse. But the really are just hills. As we approached the monument, we started seeing this wild and tall spires of granite popping up through the pines. Then we came around a bend to see the four faces staring out from one of the outcroppings.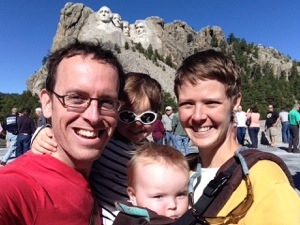 After that, it was more driving. We're all started to feel a little road weary. One of Edie's best lines from the car today: "My toes are feeling like they need a wash or they're old." We drove through most of South Dakota during the day, and all of Minnesota at night (sorry, Minnesota – it wasn't you, it was us).
This was another long day, and I'm feeling very thankful that tomorrow will only be a few hours in the car before we get to Milwaukee to see Jono and Michele!