In case word hasn't trickled your way, we are heading East for a month so that Ashley can do an audition rotation at a potential residency site. The hospital is called Baystate, and it's in Springfield, Massachusetts. We'll be staying with our friends Anne and Owen, who are both residents at the hospital, and who started were in the inaugural class at PNWU with Ashley. They also conveniently live less than a mile from Katie and Milo!
We decided to make the most of the opportunity and our flexible schedules and drive our way across the states, and today was Day 1. one of Ashley's college roommates had her wedding today at her beautiful organic farm in Terrabonne, OR, outside of Sisters. We managed to get the car and kids packed up and on the road, making it to the wedding with 15 minutes to spare (which is pretty good, considering our track record.)
Ashley spent a lot of time researching and crafting activities for Edie to do in the car, and the centerpiece is an activity tray with sectional pockets on both sides to hold supplies. It was a big hit with Edie, and a good way to start off the trip.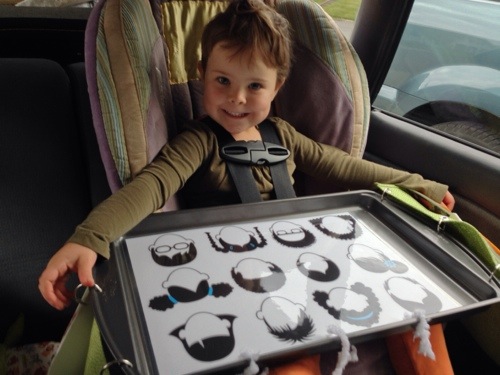 Tonight we're staying in Bend, and tomorrow we'll head through Boise and on to a Burley, Idaho.